Seven or so years ago, when a friend of mine lived in Howell, MI it seemed the best we could do for craft beer was heading to the local Meijer across the street and seeing if they got the newest shipment of Magic Hat #9, or the latest variation of Blue Moon.  These days, there are a lot more options, including Eternity Brewing on Grand River.
Eternity Brewing has a large space nested in the back corner of a strip mall, right near the intersection of Latson and Grand River avenue, which is a prime location because it's right near a newly constructed exit off of I-96. Inside it was reminiscent of an old beer hall with a long open bar area.  I was immediately greeted as I walked through the door and invited to sit down at the bar and order up a beer. The staff was warm and friendly, and I never had to wait long for them to notice my glass was low.  They were willing to answer any questions, which is cool for someone like me because I always seem to have a lot of questions.  Eternity is nothing flashy, but sometimes flash isn't what you're looking for when you just want a beer with friends.
I had my typical flight and wanted to try a good variety of styles from Eternity. My choices were:
Crimson Crash – Irish red 5% – The crash had big caramel flavor, almost on the verge of being too malty. It had a bitter back end which almost reminded me of citrus zest.
Pyrite Fool – Golden Stout (nitro) 5.4% – I don't know that I've ever had a golden stout, so I was curious to try this.  It had a strong coffee taste mixed with a creamy caramel flavor up front, with a slight chocolate aftertaste. This was the most complex of the flight, but at the same time also easy drinking.
Michigan Hopped V16 – American Pale-Ale 6.0% – There was a slightly sweet taste up front. It had a thin feel in mouth with a bitter back end and aftertaste.  This is a beer that they're reiterating and tweaking with new versions, which I think is a really cool idea.
Honey Snap – Pale Wheat 5.6% – Honey Snap was lightly malted with a strong ginger taste, which led to a sweeter taste that evened it out in the middle.
After my flight I stuck around for one more – which proved to be my favorite of the whole bunch: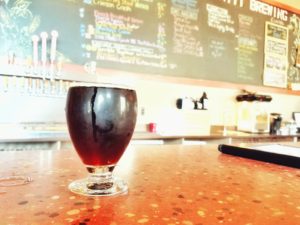 Star S'mores: Episode V the Mallow Strikes Back – Imperial Brown 7.5% – Just… Wow! This had a strong cinnamon taste up front that mellowed out to be super sweet – a definite dessert beer if I've ever tasted one. I'd skip dessert and just drink this. The aftertaste reminded me of baked pie crust, which is a good thing. At 7.5% this is the sneakiest of the bunch. I don't know if I've ever had an imperial brown, but it's a really refreshing change of pace from all those imperial stouts and IPAs that seem like everyone is doing.  This is a fresh take on a brown and I could die a happy man with an empty glass of this in my hand.
Besides the typical trivia and mug club events, Eternity also hosts bi-weekly euchre nights.   While I'm not a euchre fan myself, I think it's a really cool idea and adds to their neighborhood bar vibe. It seems like a good way to bond with their customer base too, which I can appreciate.  I was sitting at the bar and a guy came in off the street just to participate in euchre night! Not a bad way to bring in people who might not be the normal brewery scene.
They don't have a kitchen, but you're encouraged to either bring in your own food or have it delivered.  Bar snacks like popcorn and a whole bag of chips and jar of salsa are on the menu.  The one turnoff that I had was that you had to pay for popcorn.  Maybe I'm a cheap ass, but I would have preferred the popcorn to be complimentary, at least.  It won't break the bank at $1 for the tray, and $.50 for the refill, but it would have been a nice touch.
It's a little off the beaten path for me, but I know the next time I'm in the area I'll definitely be stopping by to check out what other special beers they have in the pipeline.  If I can get a taste of anything as outside of the box as a Star S'mores Episode V, it's worth the trip.
Eternity Brewing
4060 E Grand River Ave
Howell, MI 48843
http://www.eternitybrewing.com