Detroit Tigers opening day is one of my favorite days of the year, but it's always a crapshoot.  It seems like it's either mid 70's and sunny, or the low 40's and rainy.  In my last review, I was down in Florida for a baseball spring training trip. This time I was set on catching the Tigers home opener without having to brave the cold Detroit morning – which was a 180 degree turn from those warm Florida days.  Since most of my "go to" breweries either aren't open early enough, or don't have many TV's, I set my sights on one that fit the bill – Kickstand Brewing Company in Commerce Township, Michigan.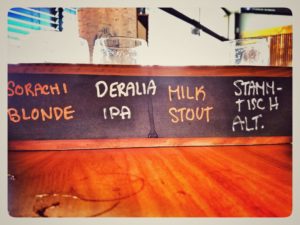 Kickstand is one of those "don't judge a book by it's cover" breweries.  Situated in a strip mall, the outside is underwhelming. It looks like any other strip mall bar, complete with dark windows so you can't see what's going on inside.  Thankfully the "penny-farthing" bikes out front make it stand out. When you step through the vestibule you can immediately see that a lot of work went into the setup, and it caught me by surprise.  The interior has an industrial/farmhouse look to it with weathered corrugated metal and reclaimed wood on the walls and stone flooring throughout. You can find bikes throughout that give a nod to it's namesake. TV's line the big bar area in the center and are spaced out across the rest of the dining area so you won't miss a moment of whatever game you're keeping up with.
The beers I decided to go with in my flight were:
Sorachi Blonde – The blonde has a lemony taste up front with a zesty aftertaste. I didn't find that it was very aromatic, but this was one that you could definitely open the hatch on and toss back a few of.
Deralia IPA – The IPA was hoppier and more bitter than the blonde (which is to be expected – it's an IPA after all). It also had a citrus taste to it, but in this case I could taste more grapefruit than anything else.
Mandatory Milk Stout (Nitro)  – This has an especially roasted malt aroma, with a creamy coffee flavor. It was a little thinner than a normal stout, but normal for a nitro. While they list it at 4.9% ABV, it tasted stronger to me.
Stammtisch Sticke Alt – Copper in color, slightly bitter.  It was malty, but not quite as malty as the Center Stage amber, and was dryer too.  Everything so far was building to my favorite beer at kickstand…
Center Stage Amber – This Amber is where it's at! More malty than the Sticke Alt.  It had a dry finish, with a hint of sweetness sitting in the background. This is a quality amber that I could drink all day!  This was my last beer and I can tell you that if it was my first I might have just stopped with this one, it was that good.
Now onto the food – and I'm not just talking popcorn and pretzels.  Unlike most breweries that I've been to, they also have a kitchen with a menu ranging from small plates up to soup, salads and entrees.  They make a mean poutine, and if none of that tickles your fancy you can go with an old standby – Pizza. It's also the little touches that set them apart.  Things like branding KBC on the top of the burger buns or the small trays that come with the pizza are a nice touch.
Kickstand also has one other trick up their sleeve – if you're not a beer drinker, they serve wine and spirits too.  This is a lifesaver for me personally, because my wife isn't a big beer drinker.  Instead of trying to find a compromise between a brewery and a bar during one of our infrequent nights away from the kids we can always compromise and pick Kickstand.  Not into the game?  You can try your hand at darts.  Be sure to check out their impressive custom brewing equipment while you're there too.
So whether you're in the mood for a bite, a quick drink with friends or a long night of tossing them back and watching the game, Kickstand Brewing Company has you covered.
Kickstand Brewing Company
3050 Union Lake Road Suite 4A
Commerce Township, MI 48382
http://www.kickstandbrewingco.com